Childrens Shoes
Shoes are important to get right when attending a formal event as you outfit will look great so your shoes will need to match. We have a large range of shoes available perfect for brides, bridesmaids, flower girls, prom and cocktail events as well as Mother of the Bride or Mother of the Groom. So if you are looking for modern or traditional, fashionable or comfortable wedding shoes you are sure to find the right pair here in our store.

All Shoes we offer are in satin, with styles including lace, diamantes or straps. Shoes from Rainbow Club including the Else collection come in ivory as standard with some styles also available in white.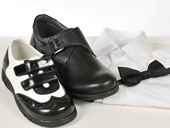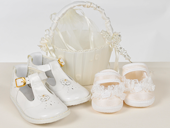 Children's Shoes

The shoes and bags we offer will finish the look of your outfit perfectly. From closed toe to peep toe shoes, high, medium and low height heels, flat ballet pump styles and wedges. Children's shoes range from flats to a mini heel. Children's shoes start at a size 1, and the adult Shoes start at a size 3 with a selection of sizes starting at a size 2.

Whether you like your shoes bold and bright colours or soft pastel shades, we are able to dye your shoes and bags to that colour so you can achieve the perfect look for that special occasion.
Contact Us Today

We look forward to assisting you with your Childrens Shoes enquiries. If you have any questions please call us today on: 0161 832 7003 to find out more.