Professional Wedding Videos and Corporate Videos

"We were overwhelmed with the DVD, and really love it." EMMA AND GARETH CURTIS.
Karen previously worked at the BBC and for Production Companies, and now specialises in Wedding and Corporate Videos with a team of top industry professionals.

She offers 3 packages, as well as Video Wedding Invites. Details are below or contact Karen if you have any questions.

All our packages are flexible and prices are designed to be a guide for you to swap and change as you please. However, once we've agreed a price, MT promises there will be no hidden extras. You will receive a quote to agree and a contract to sign. That's it! Simple!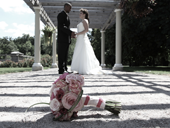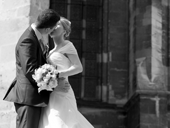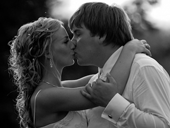 £500 BRONZE PACKAGE

If you film your own wedding (1 or 2 cameras). you will get a professional video edit and DVD, including colour grading, sound editing and DVD creation (2 copies).

Guidelines will be provided for the filming.
£900 SILVER BEAUTIFUL WEDDING PACKAGE

The wedding ceremony
Cutting the cake
The speeches
The reception
The first dance
Guest messages
Single camera person

2 copies of a professional DVD (extra copies available for £10 each). Includes travel costs (if within Greater Manchester) and postage.
£1200 GOLD LUXURY WEDDING PACKAGE

Same as Silver, but with 2 video cameras and 2 operators.
Video Wedding Invitations

Why not send your wedding invites out on film, through a posted DVD or online link?

£40 includes filming (approx. 5 minutes), free upload to a private link and 2 posted DVD's to send to guests. Additional DVD copies available at £2.50 each, including postage.
Contact us today

Email: info@karenmorrisproductions.com

Website: http://karenmorrisproductions.com/
Contact Us Today

We look forward to assisting you with your Professional Wedding Videos and Corporate Videos enquiries. If you have any questions please call us today on: 0161 832 7003 to find out more.