LEGEND by Fable and Promise
Alternative Bridal Designs in Lancashire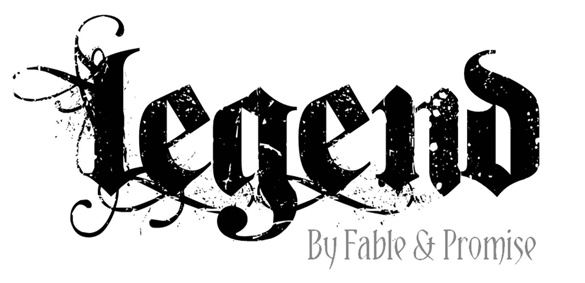 Whether your dream day is steeped in mythology, reminiscent of a bygone era or you simply want to rock your day your own way, Fable and Promise are here to bring the Legend to life…

With our feet firmly planted within the alternative community it's only natural that we unleash our imagination and flex our creative fingers to bring you something different for your wedding day.

Let's face it; if you can't be you on your wedding day, when can you be?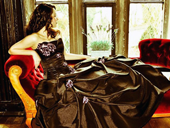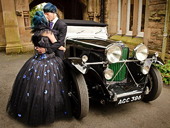 It's your wedding day… do it your way!

We are pleased to be able to bring 'Legend by Fable and Promise' to Celebration Village; a selection of unique designs for you to be inspired by. Whether you're after gothic romance, medieval regality, 20's decadence, Old Hollywood glamour or 50's Rock and Roll you'll be delighted by what you find.
All our designs are original to Fable and Promise; a collection of designs that we have personally designed and created in their entirety. From concept and pattern development to hand embellishment… every part is hand made by us from Fable and Promise in Blackburn, Lancashire.
One-off, never to be repeated designs

Legend by Fable and Promise is a collection of one-off, never to be repeated designs alongside a capsule collection of timeless classics made-to-measure to your specification with the possibility of bespoke modification (subject to consultation).

With something for all the wedding party; bride, bridesmaid, flower girl, mother of the bride/groom and groomsmen accessories too, and with the ability to match every accessory perfectly we're sure you'll be completely captivated and inspired.
Completely bespoke service

We also offer a completely bespoke service, initial consultations for which can take place at Celebration Village subject to appointment availability. If this is a service that you are interested in please contact us for more information.

We aren't new to the wedding industry. We have been providing discerning brides with bespoke gowns for over a decade, our first foray into alternative weddings beginning in Whitby as Bride and Gloom over 5 years ago. Then just over a year ago we took the decision to open Fable and Promise; a place where contemporary designers are available alongside our bespoke services. A year on we are joining forces with Celebration Village to bring our unique designs to Manchester brides.
Find Out More About Us

www.facebook.com/LegendByFableAndPromise

Urban Rockabilly

http://bridesupnorth.com/2012/10/22/urban-rockabilly-a-styled-bridal-shoot-to-celebrate-the-launch-of-legend-by-fable-promise/

Lady of the Lake

http://bridesupnorth.com/2012/09/27/lady-of-the-lake-a-styled-bridal-shoot-in-the-north-west-by-fable-promise/